42 Awards presented plus the prestigious JC Williamson Award® and Sue Nattrass Award®
Jul 27th, 2016 | Posted in Media Release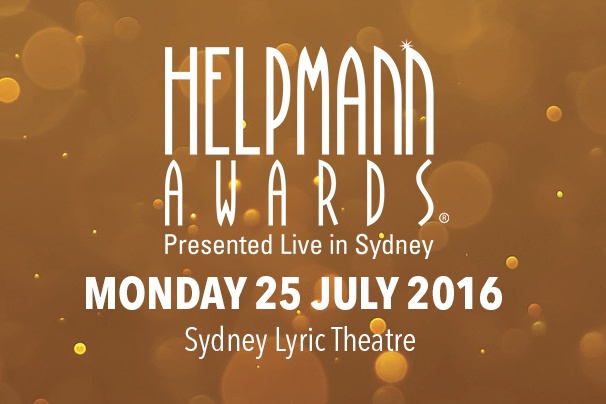 The 2016 Helpmann Awards were presented at a star-studded ceremony tonight, Monday 25 July,in front of a full house at the Sydney Lyric Theatre.

Hosts for the evening were Chloe Dallimore, Helen Dallimore, Stuart Maunder AM, Guy Noble, Simon Phillips, The Umbilical Brothers and Queenie van de Zandt as "Jan van de Stool". The celebrations continued after the ceremony as guests enjoyed an After Party at Marquee Sydney, The Star.

The high-profile line-up of Presenters included Kellie Dickerson, Tim Draxl, Marta Dusseldorp, Tim Finn, Antoinette Halloran, Noni Hazlehurst, Erika Heynatz, Celia Ireland, Tim Minchin, Hunter Page-Lochard, Katrina Milosevic, Milijana Nikolic, Eddie Perfect, Aurélien Scannella, The Hon Jillian Skinner MP and Toby Thatcher.

At the ceremony, the 2016 Helpmann Award winners were announced in the categories of comedy, cabaret, children's presentation, contemporary music, dance and physical theatre, industry, musicals, opera and classical music, regional touring and theatre.

Awards previously announced and presented live on stage tonight included a special award given to the Melbourne International Comedy Festival for Outstanding Contribution to the Development of Comedy in Australia, the JC Williamson Award® recognising outstanding contribution to the Australian live performance industry presented to Stephen Page and the Sue Nattrass Award®, presented to Michael Lynch CBE AM, which honours exceptional service to the Australian live performance industry.

The Helpmann Awards were established in 2001 by Live Performance Australia (LPA). Chief Executive of LPA, Evelyn Richardson said "We are proud to present the 16th Annual Helpmann Awards tonight. The breadth of winners, nominees and performances at tonight's ceremony shines a spotlight on Australia's world-class creative and artistic talent."

The Helpmann Awards are proudly supported by the New South Wales Government, through its tourism and major events agency, Destination NSW. NSW Minister for Trade, Tourism and Major Events, Stuart Ayres said "The Helpmann Awards is the pinnacle celebration of Australia's live performance industry and this year's winners reflect the depth, range and expertise of this significant industry. I commend all of tonight's winners and nominees on their achievements."


Guests were entertained by 10 sensational performances including:
•Singin' in the Rain –"Overture" and "Good Mornin'" starring Grant Almirall, Gretel Scarlett and Jack Chambers; and "Singin' in the Rain" full cast finale
•Sarah Blasko – "Luxurious"
•Sydney International Piano Competition – Andrey Gugnin, 1st Prize winner Sydney International Piano Competition, "Sergei Prokofiev Piano Sonata #7, III Precipitato B Flat Major, Op 83"
•Matilda the Musical – "Quiet" starring all eight Matildas from the Sydney and Melbourne seasons
•Marina Prior and Mark Vincent – "Time to Say Goodbye"
•West Australian Ballet – "On The Nature of Daylight" pas de deux starring Sandy Delasalle and Matthew Lehmann
•Ladies in Black – "Ladies in Black" starring Lucy Maunder, Kate Cole, Kathryn McIntyre, Deidre Rubenstein, Carita Farrer Spencer, Sarah Morrison and Naomi Price
• The Sound of Music – "Do-Re-Mi" starring Amy Lehpamer, Stefanie Jones and the von Trapp children; and "Climb Ev'ry Mountain" starring Jacqueline Dark.


The Helpmann Awards Ceremony was presented on the set of Singin' in the Rain at the Sydney Lyric Theatre with Jon Nicholls as Executive Producer. The ceremony was broadcast live on Foxtel Arts and is available via webcast at www.foxtelarts.com.au untilAugust 25.