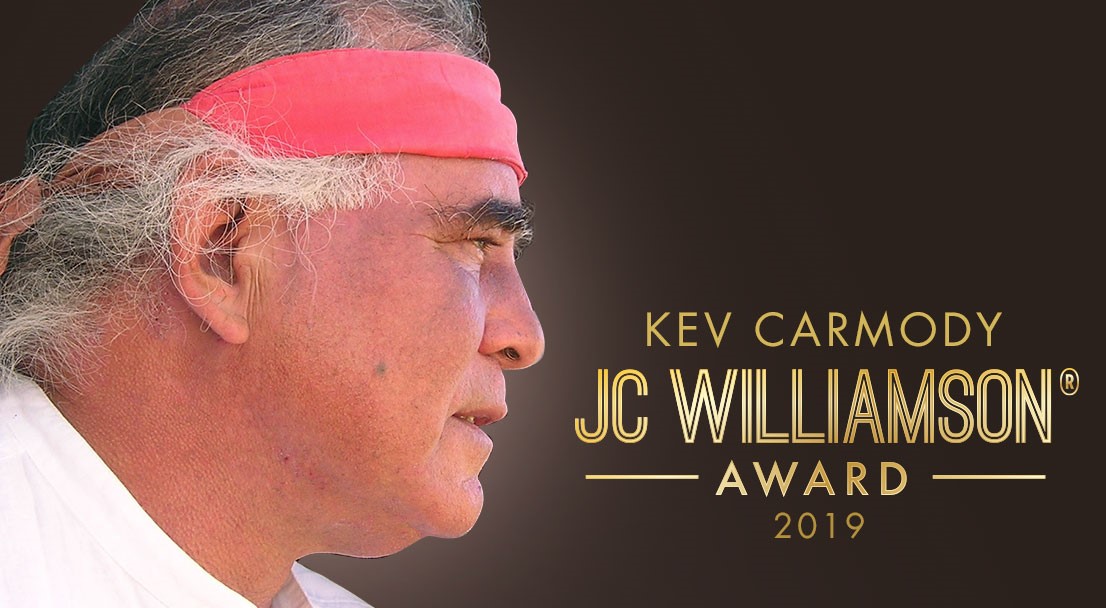 Kev Carmody announced as the recipient of the 2019 JC Williamson Award Australia's most prestigious live performance industry accolade.
Kev Carmody, one of Australia's pre-eminent singer songwriters, is known for his lyrical passion and musical imagination. 
Kev grew up on a cattle station in south Queensland. When he was ten, he and his brother were taken from their parents and sent to a 'Christian school', which he's described as 'little more than an orphanage'. He didn't finish school, but at 33 he got the opportunity to go to university. This was a turning point for him, with his lecturers allowing him to bring his guitar into tutorials as a means of expression. 
Kev had been writing songs since his early twenties but did not record his first album, Pillars of Society, until he was in his forties. Rolling Stone described this album as '… arguably the best protest album ever made in Australia'. 
Four studio albums followed: Eulogy (For A Black Person), 1990; Bloodlines, 1993, which includes his best-known composition (with Paul Kelly) 'From Little Things Big Things Grow'; Images And Illusions, 1995; Mirrors, 2004. 
In 2006, Paul Kelly conceived a tribute album, Cannot Buy My Soul, to bring Kev's music to a wider audience. The double album, which features covers by various artists alongside Kev's renditions of the same songs, won the 2007 Deadly Awards Album of the Year.
In 2016, Kev released Recollections … Reflections … (A Journey), a collection of 41 previously unrecorded songs that he'd had written over 40 years. 
A tireless traveller and performer, Kev has played in some of the world's foremost venues, been a feature artist at many major Australian and international music festivals and has worked with some of the world's most acclaimed musicians. He is also known for his work with youth and prison inmates. Kev has presented song-writing and recording workshops in communities in Western NSW, NT and Queensland. 
He has received numerous awards including the Deadly Awards Jimmy Little Award, Australian Recording Industry Association Hall of Fame inductee and Australia Council Don Banks Award.
Click here to read the full media release.