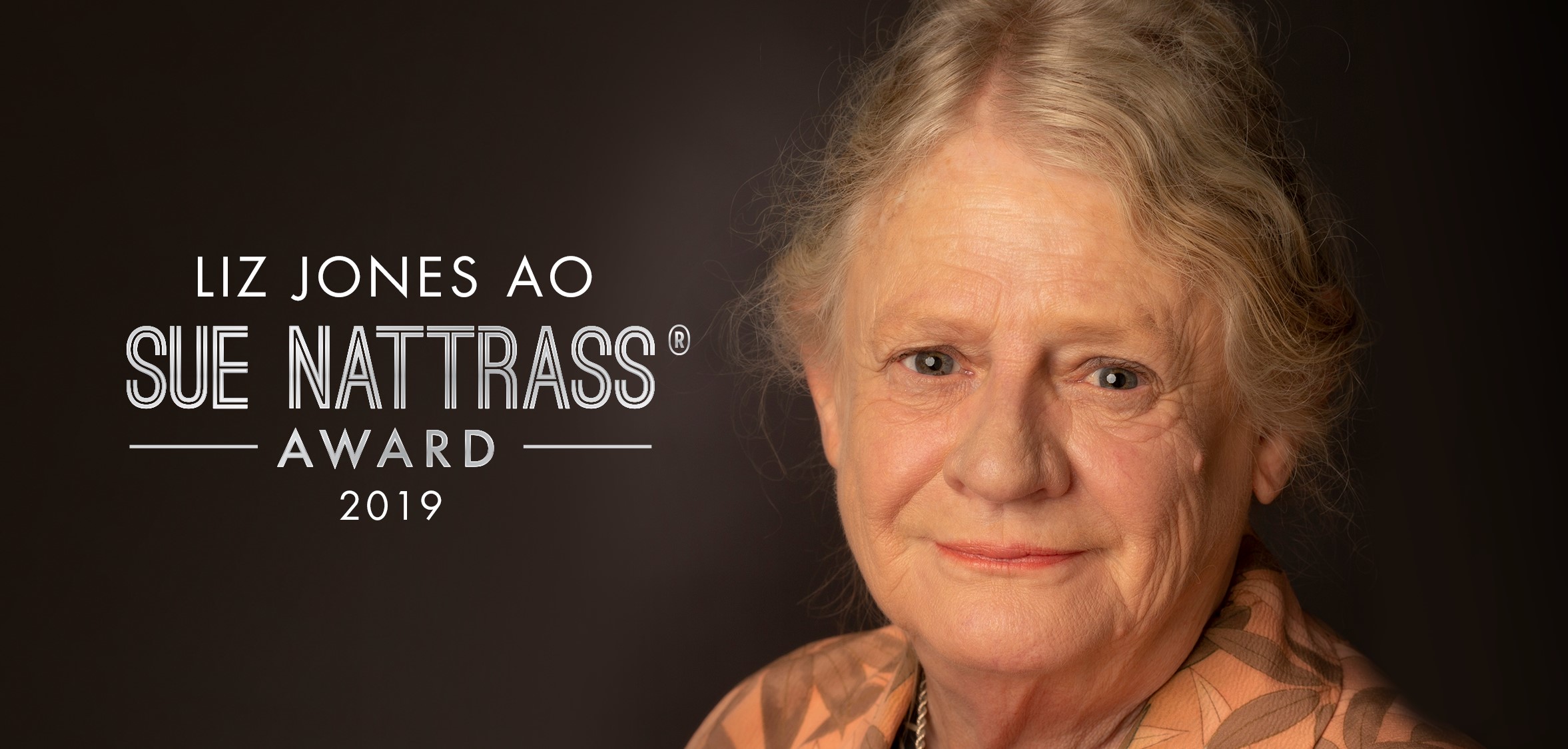 Artistic Director of La Mama Theatre, Liz Jones AO, announced as the recipient of the 2019 Sue Nattrass Award® for exceptional service to the live performance industry.
As artistic director of Carlton's legendary La Mama Theatre, Liz Jones has been a cornerstone of Melbourne's independent theatre scene since 1976. She took over the helm just nine years after it was founded (and just three weeks after giving birth to her first child) and her steadfast commitment to the foundation model of 'low financial risk, high artistic risk' has ensured La Mama remains a place where experimental and emerging theatre-makers can try out new ideas and hone their craft.  
Liz is deeply committed to creating opportunities for artists who are under-represented in the main stream. In the 1980s she worked to address the low numbers of female writers and directors by recruiting eight female graduate directors from NIDA and VCA. She believed this tactic would lead to a better representation of female playwrights.  Her strategy succeeded and an even gender balance in these roles has remained to this day.
In the 1990s  her experience working alongside Wesley Enoch as a peer on the Australia Council raised her awareness of the under-representation of indigenous artists in Melbourne theatre, including at La Mama. This led to La Mama presenting Richard Frankland's first two plays Harry's War and NoWay To Forget as part of The Melbourne International Festival with invaluable support and encouragement from its brilliant 1999 Artistic Director Sue Nattrass. With the assistance of the Myer Foundation Liz was able to commission Richard to write Conversations with the Dead, which premiered in 2002 as a La Mama–Playbox–Ilbijerri co-production. Following this La Mama entered into a three-year contract with Richard and Glen Shea to work towards the re-invigorating of Ilbijerri Theatre Company. In 2003, as an Australian representative at the Women's International Playwrights' Conference in Manila, Liz facilitated Tammy Anderson's I Don't Want to Play House and Andrea James's Yanagai Yanagai.
Alongside her work supporting theatre artists, Liz has kept La Mama afloat financially an increasingly tight funding environment. This came to a head in 2008 when the building came up for sale. Liz had developed a close relationship the landlords, the Delmonacos, and particularly with Rose after the death of Michael (who requested that Rose "look after" La Mama). After Rose's death the Delmonaco sons gave La Mama first option on buying the building. Liz spearheaded an impressive fundraising campaign that raised the $1.7 million price tag.
Liz's commitment to Australian theatre extends beyond her work with La Mama. She has served on numerous government funding and advisory committees, the VCA Course Advisory Committee (drama) twice, and the boards of the Australian National Playwrights'  Centre,  Polyglot Theatre, Chamber Made and The Actors' Benevolent Fund. She has been an Australian representative at four Women's International Playwrights' Conferences as performer, director and facilitator.In 1999 and 2001 she travelled to Europe, UK and USA as a Churchill Fellow to study the relationship between theatre and the community in key cities. 
Liz also has an impressive performance career. She has worked with numerous directors and companies including Lloyd Jones, Ariette Taylor, Suzanne Chaundry, Lynne Ellis and  Bagryana Popov, NYID, Ilbijerri Theatre, The Rabble and Hothouse Theatre. 
Liz has received numerous honours in recognition of her work. She was awarded the 1994 Kenneth Myer Medallion for the Performing Arts by the Victorian Arts Centre Trust,  the Sidney Myer Performing Arts Award Facilitator's Prize in 2000, the 2001 Green Room Lifetime Achievement Award and the 2018 Australia Council Award for Theatre. She received an honorary Doctorate of Laws from the Australian National University in 1996 and her name was placed on the Victorian Women's Honour Roll in 2002. She was made an Officer of the Order of Australia (AO) in 2012, with the citation specifically mentioning her work with playwrights and the indigenous theatre community. 
After the La Mama building was gutted by fire in May 2018, messages of love support poured in from far and wide, which is testament to the special place that Liz and La Mama have in the Melbourne theatre community's heart. Shows were transferred to nearby venues and the rebuild La Mama fund was kicked off in November 2018 with $1million from the Victorian State Labour Government. A public campaign will commence in May 2019 to raise the rest of the funds. 
Click here to read the full media release.