Eddie Perfect & Christie Whelan Browne confirmed to host the 2013 Helpmann Awards
Jun 17th, 2013 | Posted in Media Release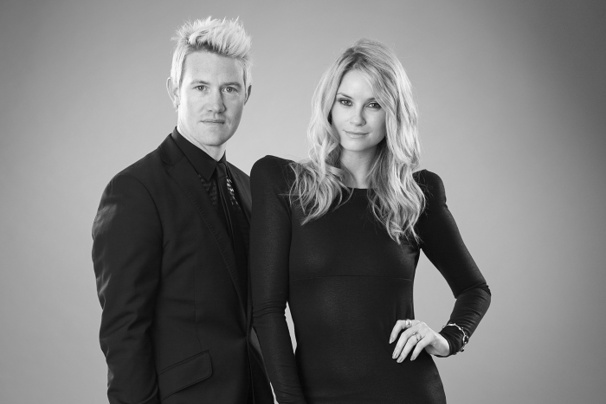 Live Performance Australia (LPA) announced today that the critically acclaimed multi-talented Eddie Perfect and musical theatre and cabaret star Christie Whelan Browne will host the 13th Annual Helpmann Awards presented live in Sydney at SYDNEY OPERA HOUSE on Monday 29th July. Currently performing together in Shane Warne the Musical, Eddie and Christie are truly fitting ambassadors for Australia's Live Performance industry.
Eddie Perfect is a writer, actor, musician and composer having won multiple awards for his work including Helpmann Awards for Best Cabaret Performer in 2011 and in 2009 Best New Australian Work for the incomparable Shane Warne The Musical. Eddie's passion and success have also helped forge a television career where currently he can be seen in Network Ten's Offspring. Eddie is truly one of the busiest men in the business, recently performing in Opera Australia's South Pacific, writing new original work The Beast for Melbourne Theatre Company and of course reprising the role of Shane Warne on stage in the latest incarnation of the Musical.
Christie Whelan Browne was a born performer. Her first big break came in 2005 when she played the part of Patty Simcox in Grease – The Arena Spectacular. Christie has received rave reviews for her performances in many and varied productions including her one woman, show Britney Spears The Cabaret, the Melbourne Theatre Company's The Drowsy Chaperone and The Importance of Being Earnest, A Funny Thing Happened on the Way to the Forum and is currently starring as Liz Hurley in Shane Warne the Musical.
Foxtel's ARENA TV will officially broadcast The Helpmann Awards in 2013. Brian Walsh, FOXTEL's Executive Director of Television said "The Helpmann Awards honour the finest work in Australian live theatre and performance and celebrate outstanding achievements from the past year. Foxtel is proud to showcase this wonderful one night only event. Foxtel is home to all the big award shows and we are proud to bring the Helpmanns to Australian television audiences and promote our finest local talent."
Executive Producer Liza McLean has assembled a stellar creative team for the 2013 Awards ceremony with Director Gary Young, Writer Jo Turner, Set Designer Graeme Haddon, Lighting Designer Matt Cox, Sound Designer Michael Waters and Musical Director Vanessa Scammell on track to create an amazing show.
Nominees for the 2013 Awards will be announced at nominations events around the country on Monday 24th June.
The Helpmann Awards will be officially broadcast on Foxtel's ARENA live from 8.30pm on Monday 29th July.
TICKETS FOR THE GENERAL PUBLIC ON SALE
TUESDAY 25TH JUNE AT 9AM
Sydney Opera House Box Office 02 9250 7777 or www.sydneyoperahouse.com
Tickets and packages – www.showbiz.com.au or 1300 4 SHOWS